It's that time again....for the annual Jimmy Fund Telethon! It's one of the many things I LOVE about the Red Sox. They are sometimes all about kicking arse and winning baseball games, but sometimes they are about so much more. A lot of ballclubs support charities, but The Red Sox do it bigger and better. They support the 2 day telethon in hopes of kicking cancer's arse...and helping those battling it. I think it is just awesome.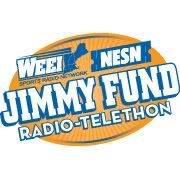 "The Boston Red Sox, WEEI Sports Radio 850 AM, NESN, and the Jimmy Fund are once again teaming up for the 8th annual WEEI/NESN Jimmy Fund Radio-Telethon at Fenway Park. Call in your gift to benefit the lifesaving mission of the Jimmy Fund at Dana-Farber Cancer Institute."

The 2 day telethon is today and tomorrow. I know money is tight for everyone (especially me who just shelled out money for 3 Red Sox/Yankees games), but we all have a little change lying around, so if you can...please donate it to the Jimmy Fund. The Fund helps support the Dana-Farber Cancer Institute. Any organization that helps kids fighting cancer....is something I will always support.

As you all know, I donate $10 for every Red Sox win to charity so that my obsession with baseball is not so selfish. I couldn't decide on who I wanted to donate to for June or July...and once I remembered the Jimmy Fund was coming up, I decided to wait and donate to them.

So, for the wins in June and July...which were 31...I donated all of those funds to the Jimmy Fund.

That's a whoppin' $310.00.

I couldn't be happier to see that money go to such a good cause.

If you would like to donate...and I hope you do, either visit The Jimmy Fund or call (877) 738-1234.

The telethon goes until midnight tomorrow....so let's log on and pick up the phone....and help them get to their 5 MILLION DOLLAR GOAL.

If you donated to the Jimmy Fund, leave a note in the comments section. Every dollar and cent counts...and is for a great cause!