Hey, remember a while back when everyone was talking about how stagnant our offense was and how we couldn't score runs? I do. It was brutal. I remember the Red Sox putting a new record on the books for the most innings without scoring a run. Not good.

However...lately...that problem seems to have disappeared. Our bats seem to all come out of their slump together and we are once getting those timely hits...often with 2 outs.

Let's take a look at the last couple of weeks....let's start with that Tampa Bay series.

9/12 Red Sox 9, Rays 1 (W)
9/13 Red Sox 3, Rays 1 (W)
9/13 Red Sox 4, Rays 0 (W)
9/15 Red Sox 4, LAA 1 (W)
9/16 Red Sox 9, LAA 8 (W)
9/17 Red Sox 3, LAA 4 (L)
9/18 Red Sox 3, O's 1 (W)
9/19 Red Sox 11, O's 5 (W)
9/20 Red Sox 9, O's 3 (W)
9/21 Red Sox 9, KC 12 (L)
9/22 Red Sox 1, KC 5 (L)
9/23 Red Sox 9, KC 2 (W)
9/24 Red Sox 10, KC 3 (W)

So...7 times out of that stretch we scored 9 runs or more. There were numerous times we blew out the team we were playing and other than the Greinke game...there weren't any games which the team ran away with it against us. We just seem to be hitting on all cylinders.

What is the difference? For me. The answer is easy...and two fold. The answer is VICTOR MARTINEZ.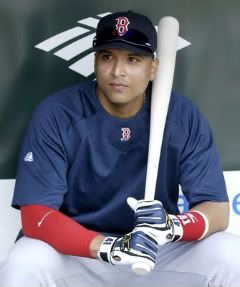 V MART obviously brings the bat. He's a stud. With him in our lineup as Catcher, JD Drew is the #8 hitter. That's a good lineup. With him in the lineup as Catcher, Mikey Lowell and Papi BOTH get to play the game. So, V MART has brought so much to this team. I hope we keep him. We better!

I said it was two fold. V MART has also seemed to have a real nice influence on one Mr. David Ortiz. Papi used to have Manny and we all know that something has been missing since he's been gone. It seems like Papi & V MART are a new Band of Brothers...in the lineup....in the dugout...in the club house. David Ortiz is a hitter and I never questioned he would get his swing working...but it also seems like the presence of V MART has really given him some extra Papi mojo.

Let's hope...and pray...that this hitting thing we have going on...keeps on right into Yankee Stadium.

Let's GO RED SOX!!! Clap Clap ClapClapClap!