No, it's not 500 saves like Mariano Rivera got this week, but Jonathan Papelbon got his own
record breaking save
this week.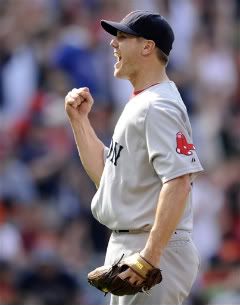 Jonathan Papelbon recorded his 20th save of the season which was also his career 133rd save with the Boston Red Sox. That makes him the all time leader for saves by a single player within the Red Sox Organization. Papelbon tied Bob Stanley for the record on Monday night when he got a 1 out save to beat the Orioles 4-0. Pap tried to get the record save on Tuesday, but we all know how that went down. Instead Pap got the statistic we never like to see...a blown save. Redemption was just a few hours away though as Pap came to the mound in the 11th inning on Wednesday afternoon and got a 1-2-3 save to protect the Red Sox comeback 6-5 win.
Papelbon's comments about the save and his place in the record books:
"It feels good,'' Papelbon told the Boston Globe. "When I set out to do this, to be the closer of the Boston Red Sox, there were a lot of goals in sight. And this was one of them. To finally get there and kind of get it out of my head is good for me. All right, that's done. Let's move on.''
And we all are excited to move on and have Papelbon continue to rack up saves and records....hopefully well into October and beyond. We know he is eyeing the success that Mariano Rivera has had and is looking to gain that kind of success. Yes, Mo plays for the Yanks, but I can't help but respect and like the guy. I hope that Papelbon has the kind of success and longevity that Mo has had...and hopefully like Mo, Pap can do it with one ballclub (One has to dream, right?).
So far, I like Pap's numbers when it comes to the chase of Mariano Rivera. Mo has been the closer for the Yankees for 12 years and as of this date, has 502 saves. Pap has been the closer for the Sox for 4 years and has 133 saves. If Pap stays healthy and competitive, I can see a serious run at a record like that...hopefully with a Big Ol' B on his hat while doing it.
Congrats Pap....and many more!